Construction Site Accidents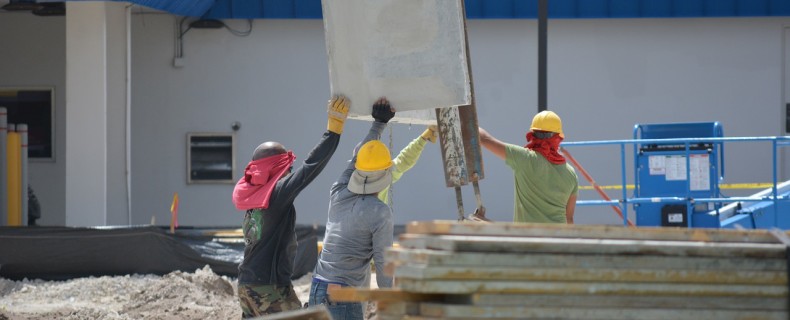 Construction Workers Pay A Heavy Price 
Working with heavy equipment, in proximity to hazards, or at great heights or depths, construction workers are all too often involved in accidents that end a career or a life. Construction accidents also leave hard-working men and women with life-altering spinal cord injury, paralysis, brain damage, coma, loss of limbs, disfigurement, burns or respiratory illness.
Construction work gear–hard hats, safety goggles, reinforced clothing–is designed to protect construction workers from site injury or death. Industry standards and OSHA regulations are in place to protect construction workers as well. Unfortunately, neither can fully protect workers from acts that cause personal injury or death at construction sites in New York City and across our nation. Whether the injury or wrongful death results from equipment malfunction, power lines, hazardously modified equipment, transportation accidents, falling objects or an improperly erected ladder or scaffolding, Bader & Yakaitis, LLP fights for the rights of injured workers and their families.
Construction Site Injury
When business owners, general contractors, subcontractors, equipment or material suppliers fail to make the workplace safe for New York construction workers, serious injuries and deaths occur. The New York construction accident attorneys of Bader & Yakaitis, LLP work to hold them accountable. If injured on the job, you or someone you care about may be entitled to workers' compensation benefits. Our lawyers and legal professionals will immediately investigate the cause of the construction accident, examine the scene of said accident and preserve important evidence including equipment, materials, and witness statements that can help you prove your construction accident case.
Ladder Falls
Falls from ladders are one of the most serious safety problems at construction sites. Many construction workers suffer serious injury or death from falls due to defective ladders, high winds, slippery surfaces, or poor footing. Our attorneys and professionals thoroughly investigate the cause of the fall and pursue compensation for the worker or his/her loved ones.
Claims Against Owner, General Contractor, Equipment Manufacturer
Many workers are hurt or even killed on construction sites. The law holds the worksite owner, contractor, subcontractor, supervisor and/or manufacturer of defective equipment responsible for these tragedies. Many injured workers are entitled to Workers' Compensation benefits, but this money may not fully compensate for the expenses and pain and suffering. Bader & Yakaitis, LLP work hard to win victims the justice they deserve including medical expenses, lost income, and pain and suffering.
Scaffold Falls
Working on or around a scaffold places a construction worker at extraordinary risk of catastrophic injury or even death. Serious accidents can occur when the planking or support gives way or the worker slips. To protect construction workers, New York has enacted the "Scaffold Law." This important section of the state's labor laws requires work site owners and contractors to provide workers with proper scaffolding, hoists, stays, ladders, slings, hangers, blocks, pulleys, braces, irons, ropes, and other appropriate worksite safety equipment with the strength and structural integrity to safely support workers working at elevations. When contractors or owners neglect their duty, the law holds them absolutely liable for the resulting injury. Bader & Yakaitis, LLP will take them on.
Falling Objects
Tools and building materials can fall or get blown, thrown, or dropped off construction sites and pose a great danger to workers. In areas where overhead work is being performed, falling or airborne objects can cause head injuries, blindness, dismemberment or other serious injury and death.
Wall Collapse
When walls have not been adequately braced against collapse, disasters happen. Contractors can be held liable for the serious injury or death that can result.
Drawing on the talents of our network of construction trade and forensic experts, we conduct the thorough investigation necessary to present the best possible case. Through our careful, methodical approach, we have secured major jury verdicts and settlements that compensate our clients for the lost wages, medical expenses, pain and suffering and lost companionship they suffered.
Our partner Paul Yakaitis negotiated a $9,460,000 settlement for our client who suffered atoxia and slurred speech as a result of an accident at the construction site where he worked. Recently, Paul obtained the compensation due a 26-year old man who, in the course of his work at a construction site, fell from a ladder and suffered closed head brain injury. A jury found that our client's employer had negligently failed to provide a scaffold to him. The jury awarded our client $7,360,000—the largest sustained verdict for a closed head brain injury [the skull did not fracture nor was brain surgery necessary] ever awarded in the state of New York.
Paul lent his trial skills and knowledge to the cause of a construction worker who suffered leg injuries when shoring gave way and buried his lower body. Our client was awarded over $3.2 million.
Paul's in-depth experience with scaffolding accidents enabled us to negotiate a $1.7 million settlement for our client who suffered a fractured pelvis when he fell from a scaffold.
These and other clients have experienced the benefits of a New York construction accident lawyer with the fighting prowess to take the case to trial and the experience to negotiate the most favorable settlement outside of court. If you or a loved one has been injured at a construction site, contact Bader & Yakaitis, LLP to consult with an experienced New York construction accident attorney. We are here to provide confidential, straightforward information about the legal options available to you.